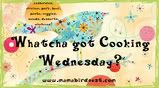 WOW! I am taking the plunge! I am HOPING and PRAYING that all you foodies, moms, single ladies, men ANYONE and EVERYONE  that reads Mama Bird's Nest will join me in my newest adventure.
Whatcha got Cooking Wednesday?
I thought it would be a great way for us all to share some yummy recipes, meet new friends and just have fun!! I love linking to Tempt My Tummy Tuesday and well, I am a girl that loves to host a party so…
Can I count you in?
Invite your friends to join us!
Be here! Wednesday
Please add the WGCW? Button to your post and link back!! I can't wait to see what you have to share!! Do you like the idea of ANYTHING GOES or would you prefer us to have themes for each week? (ex. apps, pasta, etc…) YOUR opinion matters. PLEASE tell me what you think!!