For today's Meatless Monday I was inspired by the amazing Jen Hatmaker she is a woman of God, has written oodles of books and is rasing a crop of kid-o's! When I saw this recipe for Jen Hatmaker's  Lentil Rice Bowl on her facebook page I had to give it a try!! YUM-O and am I happy I did! Hat's off to you Jen this is a keeper!  Now mind you my friends this make A TON. Really, like a whole bunch, like invite the neighborhood bunch!! Also, is takes a lot of pans and makes your kitchen a cluttered mess. That all being said it is worth it! PROMISE. I am not even a curry lover and I am in love with this and you will be too! Go on now, make it tonight!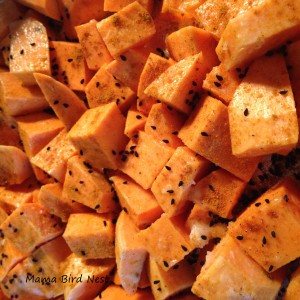 First,  you want to start with your sweet potatoes. I used 3 locally grown (so they were a nice size but, not ginormous!) peeled and cubed, toss with olive oil, salt, pepper, curry powder and my addition of Nigella Seeds, these look kinda like poppy seeds they are insane when roasted on sweet potatoes.  Roast on 375 for like an hour.
Next, get your lentils going. Chop an onion and soften in olive oil, once they get soft add 1 bag of rinsed lentils, stir around and coat well with the olive oil. Add a heaping tablespoon of curry, tumeric, cumin, cinnamon, then add salt, pepper & garlic. Mix well.  Add 24 oz of broth, Jen used veggie broth, I used chicken cause it's what I had.  Cover and simmer on low for about 45 mins until tender yet not mushy.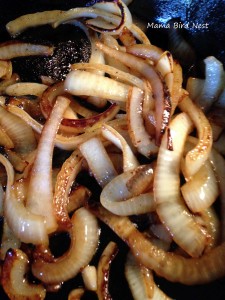 Get your onions going, I used a huge sweet onion and cooked low & slow the entire time the other ingredients were cooking, I added 1 tablespoon of brown sugar and a glug of balsamic vinegar after about 30 mins just to get the onions good and carmelized. You can skip this step, but you will probably regret it! They are so good!!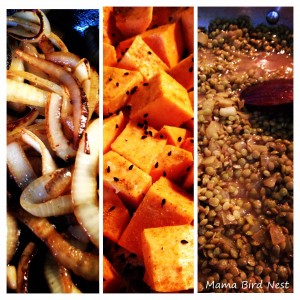 Don't forget about the rice!! Followed Jen's recipe for coconut rice use 1/3 coconut milk, 1/3 broth & 1/3 water. It was so good and Jack LOVED the rice. Loved, loved, loved!
Now put it all together!
Layers
1. coconut rice
2. lentils
3. sweet potatoes
4. onions
5. plain yogurt
ENJOY!!