Summer time is my favorite time of the year to experiment with fruits and veggies and these Asian Pickles are a WINNER!
I adore lettuce wraps and at The Cheesecake Factory they serve these pickled cucumbers on the side and that is where the inspiration was born.
I played around with the differet flavors and after a few tweeks and actual measuring I have a recipe worthy or sharing!
I adore just your basic marinated cucumbers in vinegar which is a Southern staple at ant summer meal  so, I am introducing you to this is a "gourmet" Asian version.
It will be ther perfect addition to your next meal!
Asian Pickles
2 small pickling cucumbers or 1 large English cucumber, sliced
1/2 sweet onion (Vidalia, is my fav) sliced super fine
1/4 c vegetable oil
1/3 c rice wine vinegar
1 T low sodium soy sauce
1 t honey
1 t srircha
1 t seaseme oil
1 t toasted sesame seeds
Slice veggies and set to the side. Make marinade and pour over top. Allow to marinate at least 4 hours.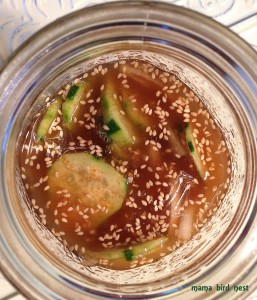 This marinade doubles and triples beautifully although I personally do not think you will want to double or triple the sesame seeds. They go a long way!!
ENJOY!