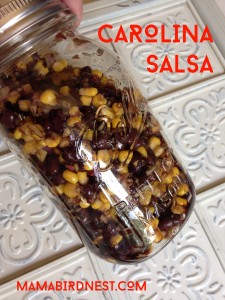 Carolina Salsa is my favorite go to app for any gathering,
not to fancy just great tasting!
We (my friends) call it Carolina Salsa and I have been making it for so many years I can't even remember where it originally came from.
My sister and her family espically love this as they are not tomato people, the horror!
You guys know I am in love with tomatoes but this is a great fresh app and
IT IS EASY ON THE WAISTLINE!!
My newest obsession is to make a big salad with grilled chicken, a big scoop of this yummy Carolina Salas, avacado slices and Tomatillo Ranch
(recipe to follow and I will link)
This recipe makes a ton, apx 2 quarts, feel free to half it but, you'll wish you hadn't, it's that good!
Everywhere I have taken it everyone loves it!
I hope YOU do too!!
Carolina Salsa
2 cans black beans, drained & rinsed
2 cans mexicorn, drained & rinsed
1 large cucumber, seeded and chopped fine
1/2 red onion, chopped fine
1 cup balsamic vinegar
1/4 cup sugar
Just mix everything together and as always I must say, it is BEST if you make it the night before or the morning of serving it.
It just gets better as all the flavors meld.
Serve with tortilla chips.
Or with your favorite salad, on top of tacos, possibilities are endless!
ENJOY!