What are you doing to help OUR EARTH?
Here at my home we are trying to do our part. I thought I would share with you the baby steps we are taking to make the Earth a little better.
Recycle I do hope that since it is 2013 you too are recycling! I made my own recycling center from bins at target. We live in the country and have to take it to a recycling center. It is really easy and has decreased our trash by at least half!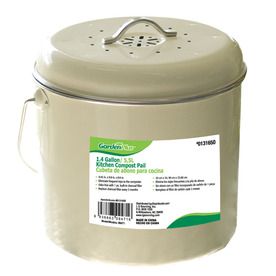 Compost I got this adorable white compost bin from Lowes about a year ago, prior to that I was using Tupperware! I love this because it fits perfectly under my kitchen sink and Jack loves dumping it into  the big bin outside. Composting has also cut the trash WAY down and I love the visual of seeing all the good things we are eating! A little tip KIDS LOVE COMPOST! My son is obsessed and tells everyone all about composting.
Garden we LOVE our garden and are so lucky to have a very large garden, but don't be discouraged if you don't have a big space, you can plant tons of things in pots. We save tons of money by growing all the wonderful veggies, herbs & a few fruits!
Reusable Snack Bags& Reusable Grocery Bags  this is a Super Easy way to cut money and trash! You can find reusable bags and containers everywhere!  Some of my personal favorite bags are SCOUT. The last FOREVER!! I have one that is at least 5 years old. This is the bagette it is the market tote and retails for $23 and is worth every penny in my opinion! Every week I get stopped and asked "where I got my bag"
Re –use Paper! all of  it! All those worksheets, junk paper that comes home from school, FLIP it over use it for art, grocery list, printer paper. Think how many trees you are saving!!
ReSource  is an awesome place that you can donate almost anything you can think of! Really anything, they have a craft room and a warehouse with tons of cool stuff just waiting to be Up cycled!
What are you doing to help OUR EARTH?
xoxo, Bird