Perfect Meatloaf, ahh it is one of those things that people either  love or hate. I for one enjoy  meatloaf, but I don't ever order it and would be heststant to eat it at someone's home. I mean who the heck knows what "they" put in their meatloaf? Here is my super yummy, family friendly, kids and Hubs approved
PERFECT  MEATLOAF!
Mama's Meatloaf
1 lb meatloaf mix*
1 piece of bread, crust removed
1/4 to 1/2 cup chili sauce
1 egg
3 dashes of Worcestershire sauce
1/4 cup parmesan cheese
1/2 t garlic, salt & pepper
1 T fresh chopped parsley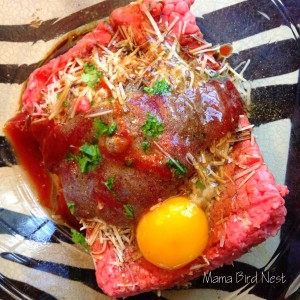 Mix everything together and allow to sit in fridge for a few hours, or overnight, or just while the oven preheats!  Dump onto a broiler pan, this allows all the grease to drain and I am convienced that this is one of the keys to a perfect meatloaf!! No one wants greasy meat! Top with sweet and sour catsup (recipe below) Bake at 350 for 1 1/4 hour or until center is cooked through.
*Meatloaf Mix  is great and REALLY adds to the flavor, there ore no seasonings just a combo or ground meat, you can always use ground turkey or beef
Sweet& Sour Catsup:
3 T catsup
2 T brown sugar
1 1/2 T mustard
1 T apple cider vinegar
Mix everything together and drizzle over top.
ENJOY!
xoxo, Mama Bird