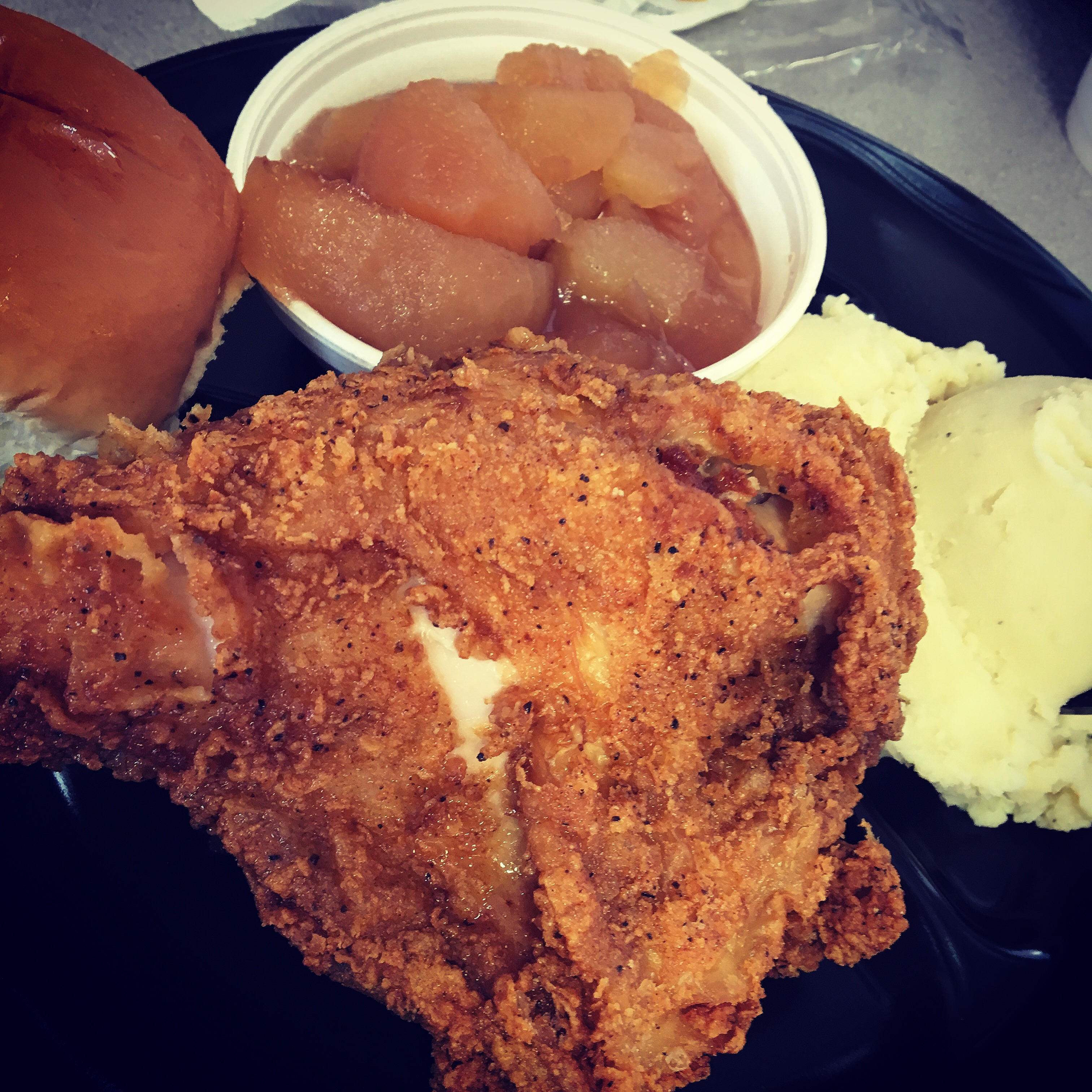 I posted on Facebook last night that I was in search of some great fried chicken right here at home. In Hickory, NC who makes some tasty chicken? I mean I love the Bo and all but, Jack & I had been talking about fried chicken and decided we would add this to our search. And boy lots of my peeps shared their favorite spots. Mountain Fried Chicken, which I had never even heard of came up more than anywhere else. And after a quick Google search I was able to locate and see that they indeed were open on Sunday! So yeah we had a lunch plan after church, which can be a real issue. We are horrible at picking a place!
We arrived about 12:40 and there was a line out the door! What? Well, it moved really fast at this no frills spot. It's a bit shabby, plastic silverware, foam plates, packaged lemon for the tea! Hush your mouth, this is a sin in my opinion. However, for good food I'm willing to deal with the fake lemon. Once, but really in the south you gotta have good tea & real lemon. Anyhoo, you order cafeteria style, choose how many pieces of chicken along with what cut. I'm a single breast girl. J had 2 legs, and hubs had thigh & leg. The chicken was great. Just like the tag line on the sign said, "It's not greasy", it wasn't. Very moist even the breast, crunchy outside, great flavor. Very good. We all ordered different sides, my plate pictured above was by far the most monochromatic and not my typical plate! Mashed potatoes were really peppery, baked apples were not too mushy or cinnamony which was good with me! The green beans seemed to be straight out of the can. Pintos (I don't eat them) boys said were good and both enjoyed the potato wedges. Chicken is definitely why you're going to go here and you'll be happy. Next time I'd probably get a box of chicken to take home and have my own sides.
Mountain Fried Chicken is open daily and the staff was very nice. They have daily specials and off 10% off on Sundays with your church bulletin (dang it I tossed mine in the recycle bin!) next time.
What did you have for Sunday lunch?