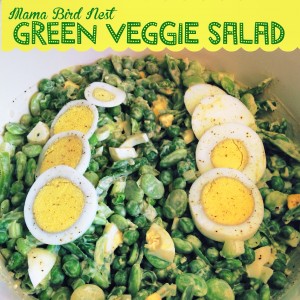 Pea Salad with Zippy sauce is a family favorite and this is a great spring salad that pairs nicely with ham.
The addition of French green beans & baby limas really add texture and zing to the salad.
I think I may have to serve it at Easter! It is a super simple oldie goldie that I think you will like!
Veggie Salad
1 package each (frozen steamer packs) peas, French green beans & baby lima beans
3 hard boiled eggs ( I chop 2 and slice 1 to look pretty on top)
2 celery stalks, chopped
2-3 green onions, chopped
steam veggies in micro according to directions, drain and toss in salad bowl add chopped eggs, celery & green onions
Zippy Sauce
1/2 cup mayo
1/2 cup plain Greek yogurt
1/4 cup red wine vinegar
splash of Worcestershire sauce
squeeze of Siracha
sqeeze of yellow mustard
lots of black pepper
little salt
Mix well and adjust seasoning to taste.
ENJOY!!