Last week, it was extra cold and I had a craving for a soup and this just hit the spot!
It is delish and came together so fast! Making this a wonderful week night meal.
Thai Chicken Soup
1 onion, diced
2 carrots, diced
mushrooms
4 oz can chopped water chestnuts
bamboo shoots
1 T coconut oil
14 oz can diced tomatoes, with juice
2- 24 0z Thai Ginger infused chicken broth
2 cups cooked chicken
14 0z can coconut milk
juice & zest from 1 lime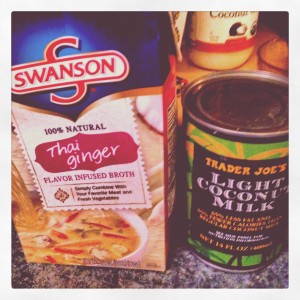 Melt coconut oil, saute onions & carrots. Add mushrooms, water chestnuts and bamboo shoots. Saute for a few mins. Add tomaotes and chicken broth simmer on low, add chicken, simmer for 15 mins or so and stir in coconut milk, and lime juice. ENJOY!!
OXO, KAT